Mairübe hosts a variety of special events throughout the year: from vegan fine dining experiences in our own restaurant to one-off pop-up events around Lucerne.
Four to five times a year we host a five course vegan fine dining evening. The dates and menu will be posted here and on social media a few weeks in advance of the event.
Please book your table as early as possible as places are limited. To book a table email hello@mairuebe.ch
We ar back at the Neubad Gastküche on 13. Mai 2023.
Come join us for a Caribbean Soul Food Saturday tha tis 100% vegan and 100% full of flavour.
The event starts at 18.30 and we ask you to please turn up on time.
Book your table directly through Neubad Luzern.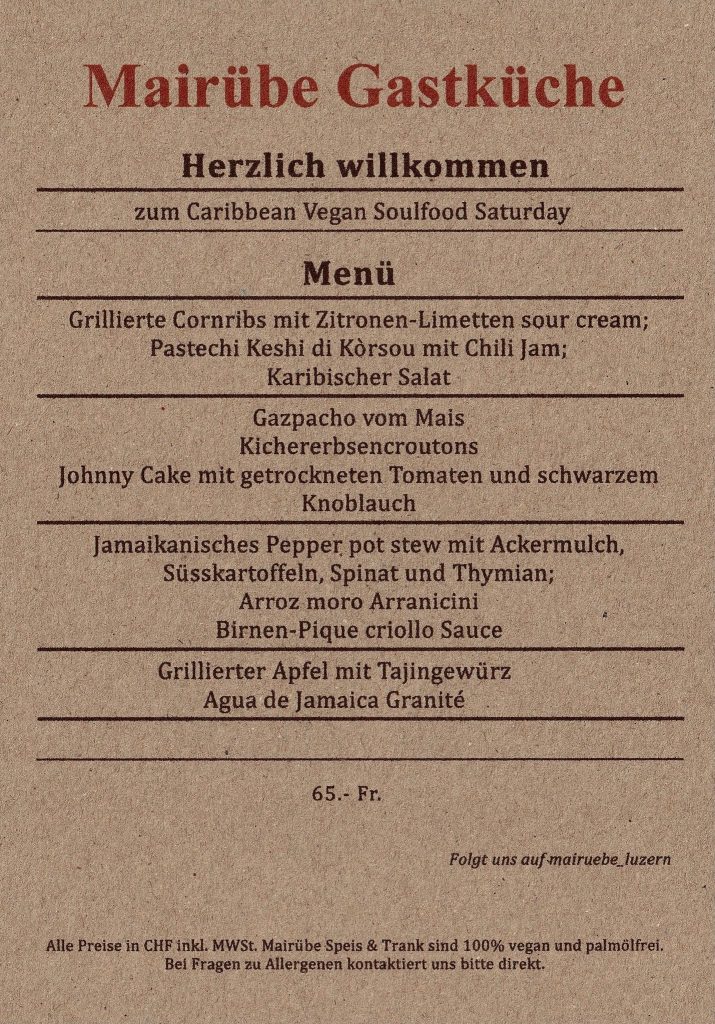 On Sunday 26. March 2023 we team up with our friends from Save Foods again to offer you a vegan brunch buffet!
You can look forward to sweet and salty treats such as waffels, pancakes, scrambled tofu and many more…
THE BRUNCH ON THE 22.1. IS FULLY BOOKED!
If you would like to be contacted in case of cancellations for the January brunch please email hello@mairuebe.ch.