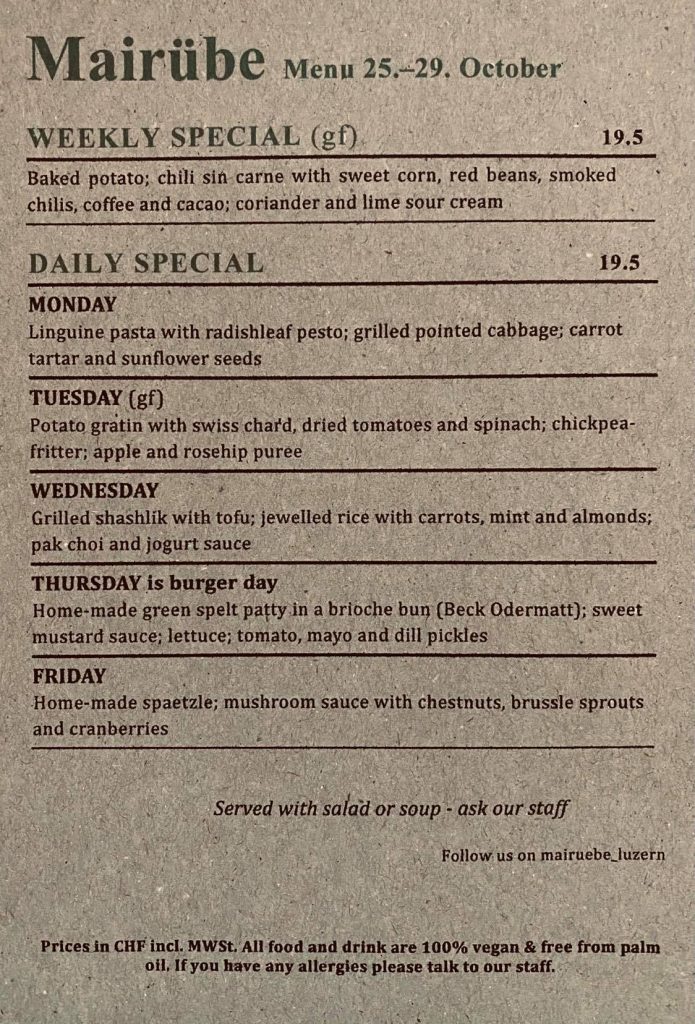 On weekdays you can choose from a weekly special and a daily special. Depending on the day, these are served either with soup or salad.
Mairübe is a non-smoking restaurant.
Saturdays at Mairübe
Every Saturday from 10am until 4 pm we serve our signature American style hot dawgs.
Enoy them as a take-away at the nearby lake or sit in and have one of Meyer Kulturbeiz's local beers with it.
Saturday 30. October is the last day we serve our full Irish breakfast – so if you have not tried it yet, this is your chance!
Reserve your place through our reservation's site!
Scrambled tofu, beans in tomato sauce, jackfruit sausage, hash browns and spinach – all home-made, of course. Served with a hearty slice of bread from our local bakery.
Our drinks menu is 100% vegan and we only serve drinks from small Swiss producers.
Discover some regional beers, taste some Swiss wine or Secco, enjoy small-brand lemonades or sip our home-made ice tea.
We are proud to support Wasser für Wasser (water for water), a small, independent, and local non-profit organisation that promotes a sustainable and fair use of water resources in Mozambique, Zambia and Switzerland. Help us support them by drinking our water!
We source our coffee from Café Tacuba, a micro roaster based in Lucerne that practices ecological and social sustainability.
At Mairübe and Meyer Kulturbeiz you can also sponsor a coffee for a person in financial difficulties through Café surprise. You pay it forward, they are able to claim it afterwards.