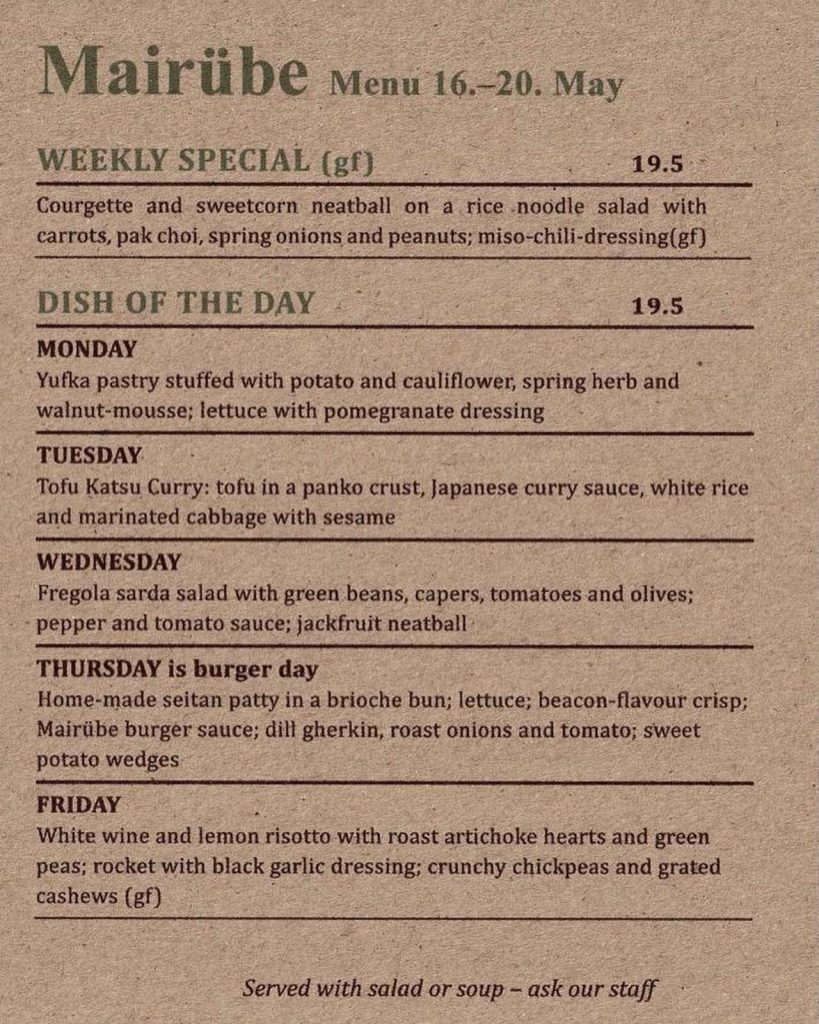 During the week you have the choice between a dish of the day and a weekly special.
Depending on the day, these are served with soup or salad as a starter. Ask our staff for more details.
All our food is prepared freshly on our premises.
If you suffer from food allergies please contact us directly.
Our drinks menu is 100% vegan and we only serve drinks from small Swiss producers.
Discover regional beers, taste some Swiss wine or secco, enjoy small-brand lemonades or sip our home-made ice tea.
We are proud to support Wasser für Wasser (water for water), a small, independent, and local non-profit organisation that promotes a sustainable and fair use of water resources in Mozambique, Zambia and Switzerland. Help us support them by drinking our water!
We source our coffee from Café Tacuba, a micro roaster based in Lucerne that practices ecological and social sustainability.
At Mairübe and Meyer Kulturbeiz you can also sponsor a coffee for a person in financial difficulties through Café surprise. You pay it forward, they are able to claim it afterwards.
After 4pm Meyer Kulturbeiz serves you hot panini and a platter with a selection of home-made nibbles made by Mairübe.
For catering requests at Meyer Kulturbeiz or in the immediate vicinity please contact us directly.